Durable. Long Lasting. Trendy. Laminate is the perfect option when it comes to affordable floors. With just about any color and style under the sun, you can't go wrong with this tasteful flooring solution.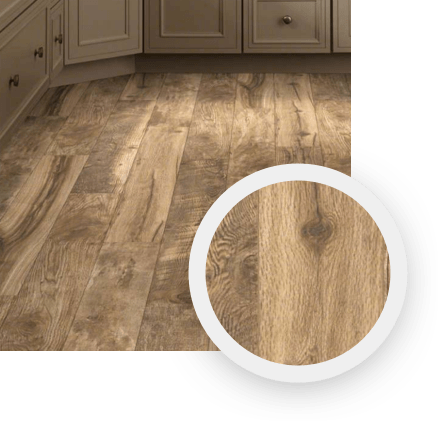 It is really hard to find something negative to say about laminate flooring. It is just that versatile and is an all-around great option for flooring for many residences. In recent years, laminate floors have become more popular and for good reason. These stylish floors will lend your home a fusion of aesthetically pleasing design options, incredible functionality and tough durability. So, if you have kids and/or pets, or if you simply want flooring that is good looking, affordable, and simple as pie to maintain, then we urge you to consider laminate for your home.
ALL ABOUT LAMINATE
GALLERY
INSTALLATION
CARE & MAINTENACE
All about
Laminate
There are four layers of flooring material in laminate floors. With the advanced technology behind it, it makes it amazingly durable and withstands wear and tear in the long run. Laminate gracefully imitates your regular, conventional flooring looks such as tile, wood and ceramic. Some laminate flooring is so advanced, it's hard to tell whether it could be laminate or hardwood.
The best part is its affordability, so you can have the best of both worlds. Continue reading to find out exactly how laminate is made and why's it's a real pleasure for many homeowners.
Some of our brands we love
Get to know the names we trust most to create quality, dependable flooring solutions for our customers.


Classic Wood & Tile
Shaw laminates use less newly harvested wood than conventional hardwoods and feature our exclusive OptiCore—an environmentally friendly laminate flooring core board that's strong, stable and moisture resistant.